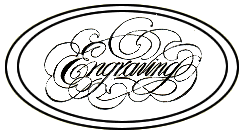 Hand Engraving
The origins of hand engraving can be traced back to early man.
After decorating his cave walls with scenes of animals and figures, he further developed his skills using carefully worked flints and decorated his few prized possessions, usually his hunting weapons, of bone, horn and wood.
In later years the engraver was called upon to produce the plates and typeface from which the early books were reproduced.
Although many ancient crafts are in danger of disappearing mainly due to the modern technology, the future of the hand engraver is secure as there will always be the need to personalise and adorn 'cherished' objects.

| | |
| --- | --- |
| Mayflower Plaque | Wm. Shakespeare Book |
| | |
| Hand engraved in Copper | Hand engraved in Pewter |
Saint George & The Dragon

Alphabet Monogram

Gilded Copper Dragons
Hand engraved Silver

Hand engraved on Copper

@ The Old Bull's Head, Bowling Street, Sandwich, Kent CT13 9HA
Tel/Fax: +44 (0)7793 583434 - Email: info@keithraesengraver.co.uk
Instagram: engraver26