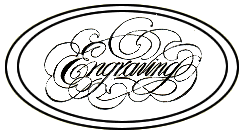 Seal Engraving
Seal engraving, otherwise known as Intaglio, is the process of engraving the designs in the negative to produce the positive, once a wax impression is applied.
When executing the design, not only am I engraving in reverse from the original artwork, I also have to think in three dimension to obtain the sculptural relief effect.
I am able to supply signet rings in various shapes and weights, 9 or 18ct yellow gold or as an alternative white or red gold, platinum or silver.

Wax impression taken from signet ring engraved with the graver or burin.

Larger format of seal.

@ The Old Bull's Head, Bowling Street, Sandwich, Kent CT13 9HA
Tel/Fax: +44 (0)7793 583434 - Email: info@keithraesengraver.co.uk
Instagram: engraver26